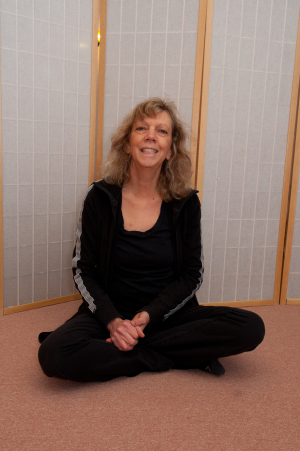 Bonnie has been a student of yoga since 1971, has taught yoga professionally for 22 years, and founded Yoga Unlimited in 1996. Over the years, she has led literally thousands of classes, and has shared with thousands of individuals the gift of yoga. Bonnie has extensive experience in working with individuals with specific needs, and has synthesized many sources of knowledge, with over 40 years of combined personal practice, self-inquiry, and teaching experience into her classes, workshops, and retreats. She has taught in public schools, universities, hospitals, retirement communities, corporate offices, and private homes. Bonnie has led numerous women's' retreats to Cape May Point and yoga vacations to Costa Rica. It is through her own personal journey, her committed inquiry into her own body, heart and mind, and being coached and trained by some of the finest teachers in the mind/body field that makes Bonnie's classes truly unique. She is with you, committed to your wellness, supporting you, and cheering you on as you uncover your wholeness.
Ayurvedic Nutrition & Digestive Health Coaching - 500 hr. program - Trained in foods and herbs to balance vital energy in the digestive system, and use Ayurvedic principles to correct imbalances and improve health in the digestive tract.
Digestive Tract Pathology


Etiology, risk factors, signs, symptoms, diagnosis, prognosis


Pathogenesis and development from a western perspective
Ayurvedic patterns of imbalance underlying the disorder
Ayurvedic as well as western treatment protocols
Diet, lifestyle, herbs, yoga, & cleansing remedies
Psychological and emotional factors
Theoretical Foundations


Ayurvedic model of digestion & nutrition


Ayurvedic Pharmacology for the Digestive tract
Doshas, gunas, tastes in the digestive tract
Yoga for digestion, other important topics
The effects of metabolism, blood, & stress on digestion

Life Force Yoga - Yoga for Depression and Anxiety - Completion of Level One Training - Evidence based yoga therapy to reduce these imbalances using Asana, Mantra, Mudra, Breathing Practices, Visualizations


Gestalt Professional and Life Skills Training Program– Three year program theory and experiential training in gestalt therapy – with Mariah Fenton Gladys, Pennsylvania Gestalt Center, Malvern, PA …a lively and holistic experiential approach to healing and personal growth that emphasizes the development of awareness — emotional, physical, intellectual and spiritual, and the capacity to make healthy contact with one's self, others, and the environment

Adapting Yoga for Heart Disease, Cancer and Other Life Threatening -Yoga Therapy Certification Specialized training in adapting yoga for heart disease, cancer and other life threatening illnesses with Nischali Devi at Kripalu Center, Massachusetts


Professional Level Kripalu Yoga Teacher Certification – 500 hr.
Including advanced pranayama techniques, meditation, and yoga therapeutics


Kripalu YogaRythmics Certification – 200 hr. Incorporating movement through the chakras, deepening awareness and expression of body, mind and emotions through yoga and dance, with self and others

Pennsylvania School of Shiatsu - 400 hr. certification Shiatsu theory and technique for practitioner training of this energy-based therapy that uses acupressure to balance the flow of chi or energy in the body. Training based on Masunaga Zen Shiatsu, and Macrobiotics

MacroAmerica - Macrobiotic Counseling Training with David Briscoe, Oroville, California; program studies include acid/alkaline balance, blood sugar balance, potassium/sodium balance, yin/yang theory, oriental diagnosis, energy of food, constitutions and conditions, home remedies, consultations and dietary recommendations, medicinal food preparation
Testimonials
"I have enjoyed both the beginner and intermediate classes at Bonnie's Yoga Unlimited studio, and also the Healing Yoga classes at the Cancer Center at Reading Hospital. I knew that Bonnie had received specialized yoga training for cardiac and cancer patients; it was obvious in the way she drew everyone in to create an optimal experience even for those participants who had physical limitations. When she introduced herself to each new participant she was seeking some background about each one, to be sure she incorporated breathing, stretches, positions, and relaxation techniques for each individual. It was especially exciting for me to realize that no matter how stressful my day may have been, I could be renewed and refreshed even after a gentle yoga session. I have recommended Bonnie's classes to many patients, families, and friends over the years I have known her. I continue to use what I learned from Bonnie in my daily life."
- Anne Nuss, Reading Hospital & Medical Center
Bonnie has taught me how to be well by quieting my mind, listening to my body and appreciating the breath of life. She has shown me wonderful ways to improve my quality of Life."
- BK
"I began yoga for stress relief and low-impact exercise. In addition to that, I have received focus, centering, peace, spiritual awakening and awareness. My experience with Bonne has been invaluable. Thank you Bonnie, for making a difference in my life and assisting me to find my true path and release my divine spirit."
- Diana P.
"Bonnie is a skilled and knowledgeable yoga practitioner, a talented and attentive teacher and a spiritual person. As a result, her yoga classes helped me to learn how to energize, as well as relax my body, calm my mind, and create a sense of well-being. I have recommended the classes to many of my clients, especially those who are dealing with anxiety and depression."
– Austra G. Licensed Professional Counselor
"Yoga with Bonnie is a necessary activity for me. Flexibility, strength and balance are some of the rewards."
- Betsy Westcott
"The amount of spiritual development has been most beneficial to me, let alone the increase in stamina, flexibility, and muscle tone I have experienced! I feel like the time II take to study yoga with Bonnie is some of the best time I can spend on myself."
- Alisha
"Practicing yoga with Bonne encourages me to cut through the noise of my life to discover myself as an uninterrupted soul, a complete person."
– MJC
"I love taking yoga at Yoga Unlimited. The sessions are tailored around the individuals taking the class; no two sessions are exactly ale. Also, I know that no matter what kind of day I've had prior to class, an hour with Bonnie will always make me feel better."
– Anne B – Microbiologist
"Bonnie's deep skills, years of experience and sincere caring for her students show through in everything she does. I look forward to each encounter, as I always come away the better for it".
– Mickey Doughty